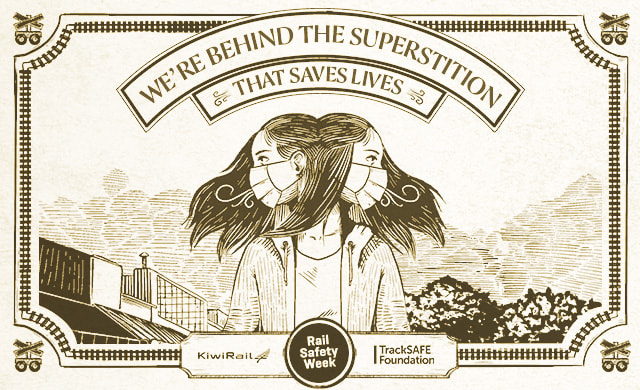 In 2022 we got behind a new superstition that could save lives.
Rather than simply telling people to expect trains, or warning about the dangers of making poor decisions, the Rail Safety Week campaign attempted something new to get people looking left and right at level crossings – promoting a superstition 'Blow to the left and to the right, for safe travels'.
While people should look left and right when approaching the rail corridor because it's the safe thing to do, many people don't. The "superstition" was designed to be a conversation piece, to get people talking about how to stay safe around railway tracks.
The campaign aimed to encourage discussion of the following questions:
"Would blowing left and right at a level crossing actually keep you safe? What would keep people safe.
"What could people do to take chance out of the equation? Through discussing the merits of a superstition, people would engage with rail safety in a whole new way.
"Unlike other superstitions, would this one actually keep people safe? The act of blowing left and right would get people to look left and right before they cross.
The following assets were available to download to support the campaign.
Facebook banner
Facebook static image
Facebook mp4 file 1080 x 1920
Poster
Rail Safety Week is an annual event, planned and coordinated by KiwiRail and TrackSAFE NZ in close association with Waka Kotahi, NZ Police, Auckland Transport, Auckland One Rail, Transdev Wellington, Greater Wellington Regional Council, local councils and supporting organisations around the country. The campaign aims to raise awareness about rail safety and to encourage safe behaviour around trains, tracks and level crossings.
In 2022 Rail Safety Week was held between 8-14 August.