A new campaign to encourage people to really look for trains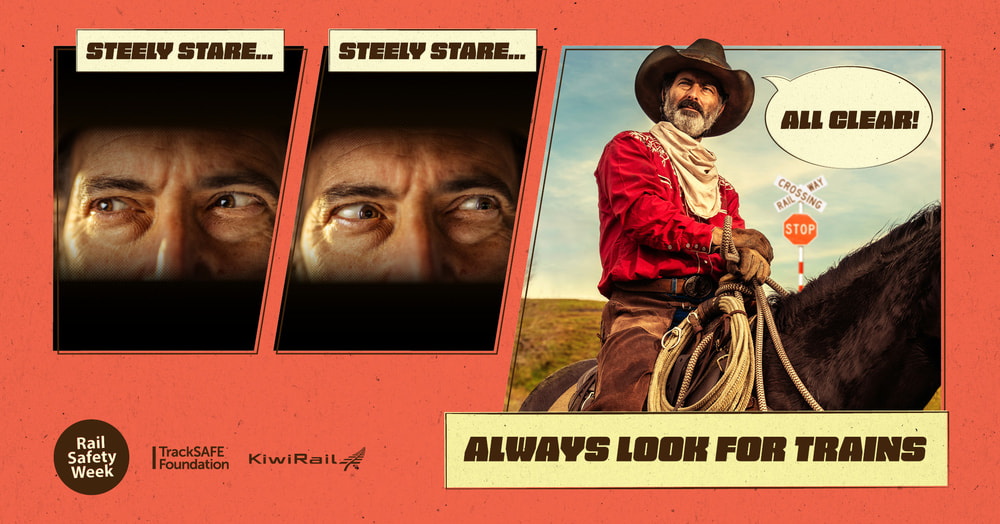 Rail Safety Week (7-13 August 2023) is an annual event that launches a new campaign to encourage safe behaviour and raise awareness of the risks around the railway. The week is planned and co-ordinated by KiwiRail and TrackSAFE with support from Waka Kotahi, NZ Police, Auckland Transport, Auckland One Rail, Transdev Wellington, Greater Wellington Regional Council, local councils and supporting organisations around the country.
---
For this year's Rail Safety Week we are introducing a new role model to demonstrate the correct behaviour when crossing railway tracks.
Behavioural science tells us people are more likely to do the right thing when they are being watched.
Steely Stan will be championing having a proper look, rather than a fleeting glance –with the campaign phrase, 'Steely Stare. Steely Stare. All clear!'
The integrated campaign involves a video (TVC), radio and newspaper advertising, roadside billboards, posters and fliers, digital artwork and events around the country.
Resources are available to download here:
Facebook cover
Facebook story
Facebook post
Instragram post
A3 poster portrait
A3 poster landscape
LinkedIn post
Visit this site again on Monday 7 August for the Steely Stare campaign video.
---
Campaign objective
We hope to positively impact the behaviour of motorists, cyclists and pedestrians in metro and regional/rural areas by increasing the awareness of the risks around rail.
Instead of taking a quick glance, we want people to focus properly as they look carefully left and right for trains.
---
The human impact
Collisions and near misses with trains cause severe and lasting trauma – to victims and their families, locomotive engineers (train drivers) and other affected rail staff, emergency services and people who witness these events.
---
Key messages
Steely Stare, Steely Stare. All Clear!
Trains can come at any time from either direction
Only cross tracks at level crossings
Always look for trains
At a Stop sign, you must stop.
Cross only when alarms have stopped