Roni Jacobs story
Roni spent 11 days in hospital recovering from her injuries.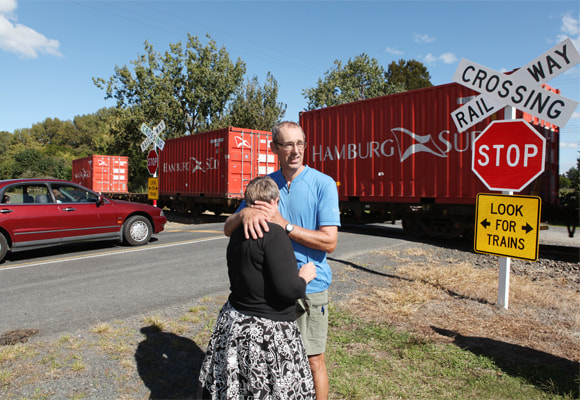 When you run a dance studio, the last thing you need is two broken ankles. But that's what happened to Roni Jacobs when their car collided with a dairy train in the Waikato last May.
Roni spent 11 days in hospital recovering from her injuries.

Her husband Gary was charged with careless driving causing injury. Roni says if one good thing has come from the collision – it is the awareness that they and all their friends and family now have of the dangers of level crossings.

"Everyone we know takes extra care and makes sure that they stop at that Stop sign, because they have seen what happened to us, and just how close we both came to losing our lives."

Assuming that there were only a few trains a day was also a mistake that could have proved fatal for the Jacobs.

"People should never predict train timetables because they change frequently – and the best and safest assumption is to expect a train on any day, and at any time of the day or night," Roni says.

Despite the incident, which was well publicised in the rural area, Roni says she has still seen motorists who slow down at the same crossing, but do not actually stop.

Chris Cairns Foundation Manager Megan Drayton says Stop signs are only placed at crossings when the views of trains are obstructed in the approach to the crossing.

"That means that the only safe (and legal) way to cross is to stop, and then look for trains. People need to treat these level crossings in exactly the same way as they would a major road intersection. The trains always have right of way," she says.
Roni says they are slowly recovering from their ordeal with the help of counselling and excellent support from their family and friends.