Get off "autopilot" at level crossings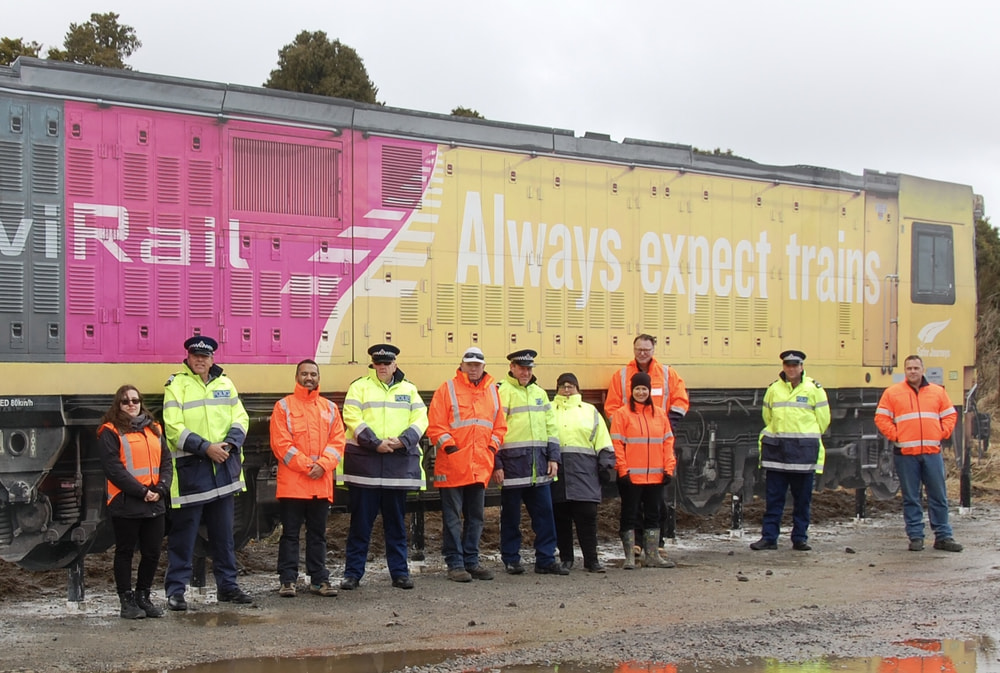 A joint NZ Transport Agency, KiwiRail and TrackSAFE NZ campaign targeted at improving driver awareness at railway level crossings is underway in the Ruapehu district. The 'Expect a train' campaign aims to get local drivers off 'autopilot' mode when crossing rural railway tracks.
Rail safety campaign
The campaign includes the installation of a locomotive-sized billboard at the Matapuna Road (Horopito) level crossing, along with warning signs. The billboard and signs act as a visual reminder for drivers to slow down and check for real trains before they cross the tracks.
Like many rural level crossings, the Matapuna Road level crossing is protected by Stop signs only, without flashing lights, bells or barrier arms. Local drivers who use the level crossing frequently can become complacent about stopping as their usual experience is that they don't normally come across a train.
Dave Robson, Acting Senior Manager Rail Safety from the NZ Transport Agency says "Research conducted to support the campaign indicates that local drivers can become overly familiar with the crossing and often don't perceive the risk of rural level crossings to be very high. This complacency can lead to risky behaviour like failing to carefully look for trains before crossing railway tracks. We really want drivers in rural areas to take notice of level crossings and the life-sized train billboard should help them do that."
"Services on some rural train lines can be infrequent, but can happen at any time, so local drivers might be used to seeing an empty track. This may lead to autopilot behaviour where they fail to look properly in both directions to see if a train is coming," says Mr Robson.
TrackSAFE NZ Manager Megan Drayton says the national rail safety charitable trust supports any initiative that has the potential to improve safety and reduce incidents at level crossings.
"There are hundreds of rural level crossings in New Zealand that just have Stop or Give Way signs, and the onus at those crossings is on the motorist to take care by obeying the signs. This campaign raises awareness of the need to always look for trains, and is extremely valuable," she says.
The 'Expect a train' campaign has been developed and funded by the NZ Transport Agency, KiwiRail and TrackSAFE NZ. The Ruapehu district is the fourth location to receive the campaign - the billboard has been previously installed in the Wairarapa, Central Hawkes Bay and Rangitikei district. The rail crossing campaign has been a great talking point so far and feedback is positive, with locals rethinking their approach to rail level crossings.
Background
The Ruapehu region was chosen as there have been at least 15 level crossing incidents over a six year period within the district. This is on the higher side, considering it's a sparsely populated region that interacts with approximately 14 planned trains a day which pass through the crossing (not including specials, work trains, charter services, etc.) on this section of the North Island Main Trunk line.
The Matapuna Road level crossing had a vehicle and train collision in 2013 which resulted in one occupant in the vehicle being seriously injured.
After approximately four months in the Ruapehu district, the campaign will be progressively moved to other high-risk level crossing regions throughout New Zealand. These regions will be selected based on their history of level crossing incidents in recent years.
47 percent of the 1,320 public road level crossings on KiwiRail's network are protected by Give Way or Stop signs, with the remainder protected by a combination of bells, alarms and barriers. There are also 1,300 level crossings on private land that are mostly rural, which are generally protected by Give Way or Stop signs.