Two seconds a potential lifesaver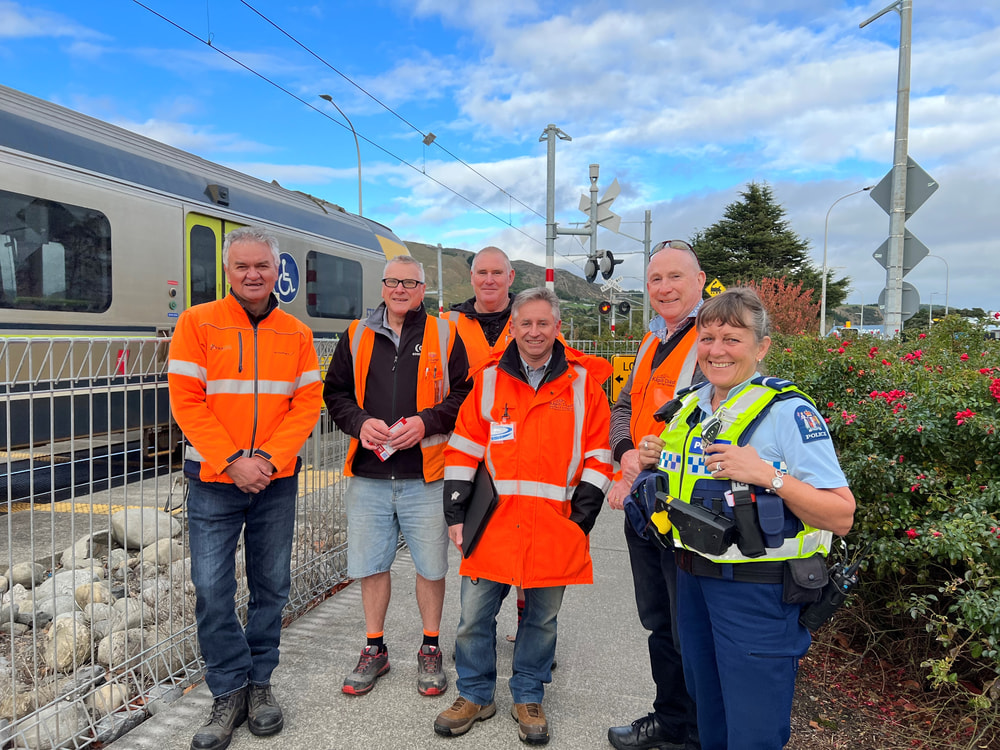 A tweak to the traffic light phasing on Main Road in Waikanae has seen an immediate reduction in risk for heavy vehicles navigating the Elizabeth Street level crossing.
Representatives from Kāpiti Coast District Council, KiwiRail, Police, Goodmans and TrackSAFE met on site recently to discuss the issues at the crossing.
Heavy vehicles were having difficulty clearing the crossing onto Main Road (old SH1), with not quite enough time to cross before the second set of traffic lights turned to amber.
TrackSAFE Manager Megan Drayton says there is a risk of a collision with a train if a motorist ends up with the rear of the vehicle trapped on the level crossing.
"This is obviously potentially dangerous for the motorist but also for the rail staff and passengers on the train. A collision between a heavy vehicle and a train has the potential to derail the train."
Megan says it was a useful exercise for the agencies to get together to view the traffic flows at the intersection and brainstorm ways safety risks could be mitigated.
"It's been a relatively simple solution for Kāpiti Coast District Council traffic engineers to request the Waka Kotahi Transport Operations Centre change the phasing of the lights. Vehicles now have an extra two seconds before the traffic lights turn amber.
"That may not seem like much time, but it makes a huge difference for heavy vehicles especially to clear the crossing and move safely onto Main Road."
Other safety issues have also recently been identified at the crossing, with an elderly woman crossing through the lights and bells and walking directly in front of a train. She was within centimeters of being hit by the train.
"We urge people to cross safely at the pedestrian level crossing. If the bells and lights are operating it means a train is coming and people should not cross under any circumstances."
Kāpiti Coast District Council Road Safety Educator & Vehicle Crossing Inspector Bruce Johnston says vigilance at rail crossings is crucial.
"It's great to have been able to get together with our partners and make a practical safety improvement, but as Megan says staying sharp at crossings is everyone's best first defence."