New rail safety campaign launched in Auckland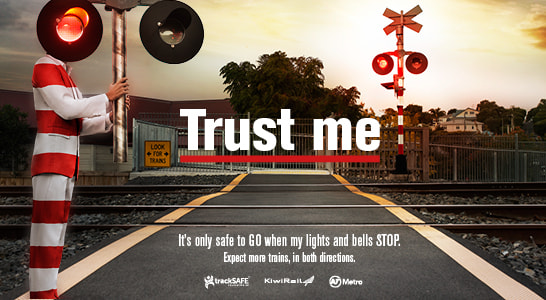 People are being urged to act safely around railway tracks and to speak to children in their care about safe behaviour, as more trains come into service on Auckland's Western Line from today.
During peak times, there will be trains operating every ten minutes in both directions between Britomart and Swanson.

Megan Drayton, Manager of rail safety charitable trust TrackSAFE NZ, says it's important to keep having safety conversations with young people in particular.

"We want them to understand that if the bells and lights are operating, then they must wait for them to stop before crossing the tracks and always look in both directions for trains. "If a train has passed and the lights and bells are still operating then there's a high chance there will be a second train coming from the other direction." Ms Drayton says

TrackSAFE NZ also strongly advises people to remove headphones and not use mobile phones anywhere near railway tracks. "It is really important that people remain focused and stay alert anywhere near railway tracks. Using technology and being distracted places people at enormous risk.

"Trains are very quiet, they travel a lot faster than they appear and they can't stop in a hurry to avoid something on the tracks," Ms Drayton says. "Trains always have the legal right of way as well."

A new safety campaign "Trust Me" is being launched today by Auckland Transport, KiwiRail and TrackSAFE NZ to raise awareness about safe behaviour around tracks and trains and to encourage safe behaviour. The campaign involves newspaper and radio advertising, posters at stations, direct mail to residents near the Western Line and social media promotion.
There will also be ambassadors handing out safety information next week at a number of pedestrian crossings on the Western line.